Tera Melos lost their drummer Vince in 2008 and only recently picked their replacement John Clardy (aka Dolphin Starbeam) from the drummer store. Instead of releasing a new LP, they're "getting tight" by playing a covers album. Instead of rendering all of the songs in the crazy Tera Melos style, they actually keep it pretty simple (relatively speaking) and produce a fast indie / punk album out of songs originally by The Beach Boys, The Clash, The Pixies, Weezer, and Polaris. Surprisingly enjoyable if only a palette cleanser / appetite whetter for whatever new original material these guys put together.
Idioms vol. 1
[2009] -
Download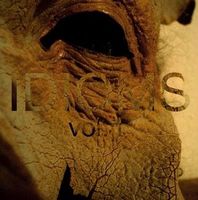 I feel like this is also a good time to mention the lunacy that is
Snakeville
, a film produced by Nick Reinhardt of Tera Melos and some other friends. The film is a 75-minute ensemble of characters interacting in a small, rural town (transparently based off of their hometown area in Roseville, CA). Its style is pretty similar to Kids in the Hall, with a few actors playing 3/4s of the roles, often in drag or absurd outfits. The sense of humor is even stranger than that found in similar sketch comedies (thanks to the inclusion of lactating male high school athletes and an obese (also male) guardian angel squeezed into a tutu).
Snakeville
is its own beast rather than a tribute to offbeat sketch comedy and definitely deserves to be checked out. Maybe the best part of it all is that there are a few moments where beautiful cinematography or surprisingly profound dialogue enters into the mix, sort of like Brad Neely's "Babycakes" series. The movie is rough around the edges and is fairly anti-climactic (really the plot is super thin), but there are moments of lucidity and lunacy alike that make this worth checking out. The trailer is embedded below.
Snakeville Trailer